Jennifer and I worked together before I had the jellybean. Thanks to Facebook, I can keep in contact with most of my former coworkers, and that's really cool since I don't see them anymore.
She asked me if I would make a hat for her new little squish. A viking hat with purple and yellow. It would appear they are Minnesota Vikings fans. 🙂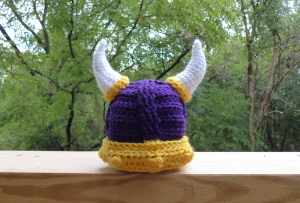 This hat was quite the challenge! I am not proficient in crochet, but this afforded me the opportunity to try several new techniques, namely fpdc, bpdc, fpsc and a bobble stitch. I ripped it out and started over no less than four times, but I finally got it going and I am quite pleased with the result.
Don't you just love my baby hat stand?? It works perfectly!