Ahh, summer. Oppressive heat and humidity alternating with dangerous storms. Skyrocketing electric bills and flying, stinging creatures that hate the lawn mower as much as you do. This part of the year, all I really want to do is sit in my cool little nest and knit.
Fortunately, I've had the chance to do that quite a bit this past week. I was thinking back trying to figure out what I've done the last couple of months, because I couldn't recall actually knitting much.
I forgot about spending two months on a cross stitch project. I had gotten bored with knitting (it happens occasionally) and needed some other outlet. I made a little animation to show you the progression:
I think that's pretty neat.
When I finished that, I tried to work on another cross stitch project, but I wasn't as interested. I think the cross stitch bug just ran its course and I was really craving knitting again.
I'm a huge fan of lace knitting. I love making airy shawls with intricate patterns. I had ordered some Shadow Lace yarn from Knit Picks just cause (probably to get free shipping. Ha!) and I decided I needed to use it. I cast on for a Miralda's Triangular Shawl and finished it in about 20 days. I don't have any final photos of that one yet because I have an issue with space to block it. I have room to fold it in half and block it, but it has all those little nupps that need to be encouraged to come to the front, so that means it needs to be blocked flat and I just don't have a good spot to do that right now. (Unless I wanted to kick us or Jellybean out of bed, and I don't think anyone other than me is going to go for that.)
Anyway, apparently that didn't satisfy my need for a lace project. I cast on a pair of Friday Harbor socks right away and finished them in about 3 days. This pattern had quite a few firsts for me. It's my first pair of top-down socks. It's also my first pair of not-just-ribbing socks.
I was so pleased with those socks, I cast on another pair of socks from the same book. I am now working on a pair of New England socks.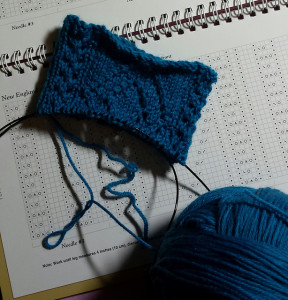 My current car project is a pair of socks that I'm not really loving. The yarn is… well, you can see for yourself that it's very bright. I think it still *reads* as purple, but the yellow and green certainly stand out. The texture of the yarn is not too pleasant, either. After finishing the previous pair of car project socks, which are my most favorite socks ever, this is like working with bailing twine.
I did try a new style of heel on this sock. It's called the Fish Lips Kiss heel and it's really as easy as it claims to be. It took me about an hour to do the first one, while referencing the instructions, but the second one took about 20 minutes. All while in the car! Typically, I have to do the heels in complete quiet so I can concentrate, but once I got the method down with the first, I did the second from memory. I'll definitely use this heel method again.
It seems that I've been busy, and I really have! Along with the knitting, there's the day-to-day keeping up with the two-year-old. I've been trying to get some regular exercise, too. I bought a new-to-me jogging stroller that's been helping with that.
We've been doing lots of summery things. Playing at the playground, going to the splash pad, and hiking in the woods. It's hard for me to sit down when he's awake, because he's just going ALL. THE. TIME. Now that we're in the heart of summer, though, we'll be finding some indoor activities. We love the science museum, indoor playgrounds and bounce houses for those rainy or extremely hot days.
I've had a few commission projects to work on, which I'll tell you about in another post. And I really, really want to make myself a sweater. I started one a long time ago, but it met a really disastrous fate. I'll tell you that story if I can bear to do it.
Have a great week, my friends!