You may remember the Christmas stockings I made for Chelsea last summer.
Well, my friend (and best customer so far!) makes cakes!
I asked her to make the cake for Jellybean's 2nd birthday and what a cute cake she made! Chocolate and vanilla cupcakes with buttercream frosting smeared all over in a pull-apart cake. YUM! Go on over to the Cakes by Chelsea Facebook page and check out her other cakes. They're so great.
(Our theme was dinosaurs. ROAR!)
We bartered for the cake and she wanted me to make a couple of hats for her. We settled on the Combination Summer Hat by Amanda Muscha. These are slouchy hats made with cotton yarn and a very open crochet pattern. The hat pattern has options for short, medium and long for the slouchiness factor, these are both medium slouchy.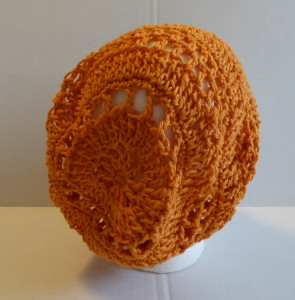 They were really fun to make… so much fun that I ordered yarn to make one for me, too. (Mine will be green.)
I got to make some really fun hats and I got a great cake for my kiddo's birthday party. This was definitely a win-win situation!