This is actually the third sweater I've made for my little man.
The first one was a baby surprise jacket using Elizabeth Zimmerman's instructions. I made it striped in red, yellow and green. We didn't know the gender of the baby before he was born (but I just knew he was a boy) so I wanted something fun, but not gender specific. I made this one in July before he was born… oh how productive I was in those days!
The second sweater was made early, too. According to my Ravelry project notes, I made it in May (and kinda hoped and wished that it would fit when it got cold enough for him to wear it – it did.) I snagged some special Chroma worsted from Knit Picks that was misdyed and decided to make this sweater for him. It really worked out. It was warm and cozy and it was the go-to sweater for our cold-weather outings last year. Being a single-ply yarn, it fuzzed and pilled a lot, and being wool, it felted in a few places with the help of a little drool. That was ok, though. I didn't want to make a sweater that wouldn't get worn.
This year, I got so caught up in the stockings and other Christmas stuff that I totally flaked on the sweater. When it started getting cold, I had to go BUY my kid a jacket, of all the things. But once I got all the Christmas stuff wrapped up (ha!) I started this year's sweater. I cast on on Christmas day and finished it on New Year's Day, ends woven in, buttons sewed on, and ready to be washed and blocked. (I chose the buttons on the left.)
Now that the temperatures are VERY cold, Jellybean has had a chance to wear it a couple of times.
I love it. It's a little puffier in the shoulders than I would prefer, but I'm pretty sure that's a result of the raglan design. I am going to try a different style for the next sweater I make him. That's one of the great things about knitting for small children. Since they're relatively quick to make, I can try lots of different styles and designs without a huge investment.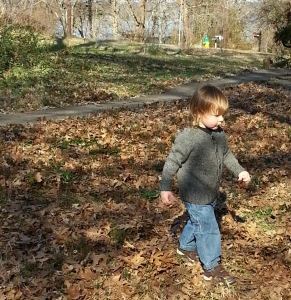 I made the sleeves are longer than necessary, on purpose, and I made the body a little longer, too. Like his mama and daddy, Jellybean is a tall drink o' water.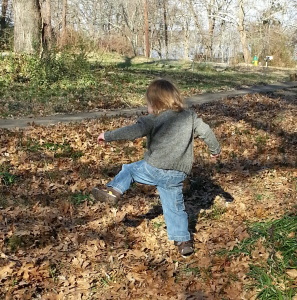 A handsome sweater for a handsome boy. It's just a bonus that he loves the buttons.