Since we just had a last first birthday, we just had a last first birthday party. Since it is the last one, I wanted to make it good. It wasn't a big party, just our family and close friends, but of course I had fun with it anyway.
The theme was Robots!
I must say a huge thank you to Pinterest for all  my ideas. I did this party pretty easily and cheaply, and still made it adorable. I recycled a bunch of stuff to made cardboard robots and the supplies I did buy were inexpensive. I got a lot of practice with spray paint and a hot glue gun!
One thing I splurged on, though, was a set of printables from SimoneMadeIt. I felt the price was reasonable, considering the absolutely adorable robots. I didn't have to design it, I just had to put my text on it and print it out. She has tons of other cute ideas for party printables, too. I will be keeping her website on hand for the future.
First, when our guests came in, there was the GreeterBot. He stood next to the front door and showed everyone the way in. He would have been holding balloons, but it was a very windy day and he was quite unstable already. I didn't want him to fly away!
Our guests were welcomed to wear some robot antennae from the idea below. I hot glued the silver sparkly pipe cleaners to the headbands, and I folded half of them ahead of the party. I invited our guests to fold their own, and some were very creative!
Unfortunately, I didn't get any good pictures of our guests' antennae, but they were a hit. Lollypop sure enjoyed wearing them. And a week later, both boys are still playing with the leftovers.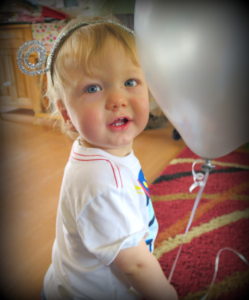 We had a fun banner hanging over the table.
Big brother even drew a robot for his little brother to hang with the decorations.
We even had robot themed food. Since it was an afternoon party, we had only light snacks:
Nuts and Bolts – Homemade Chex Mix
A Robot utensil holder
Anti-Freeze – Juice Boxes
The whole spread
Cyborg Cakes – mini brownies
Microchips – Crackers
Treat Bags for all the guests, which included a kazoo, a glow stick, Robot Energy Cells (Hershey bars) and a lollypop (of course!)
These are not pictured, but we also had Mega Bytes – hummus with pita bread and naan, Robot Oil (for robot adults) – Decaf Coffee, and of course we clearly marked the disposal unit (the trashcan)
Lollypop was spoiled with gifts from all our friends and family. I mentioned to several people who asked for ideas that he had a really pitiful amount of stuffed animals (three, to be exact) compared to his brother who had tons. So among the clothes, books and other toys, he got stuffed animals galore. Mimi got him his first teddy bear, he got a three-toed sloth (Awesome!), a lion, a tiger, and three dinosaurs. Well, and this wouldn't be a knitting blog if I didn't tell you about my stuffed gift to him. You guessed it, a stuffed robot!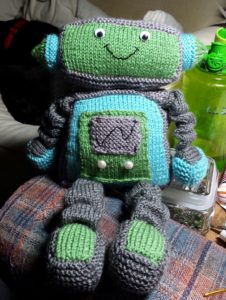 I think I really like making stuffed toys. The pattern is Remy Robot by Rae Blackledge. I used leftover Knit Picks Brava yarn from my stash. He's cute and was a lot of fun to make, even though I put him together completely different than the pattern specified, and his left foot/leg is on backwards. (I can fix that later.)
We all had a really good time visiting with friends and Lollypop thoroughly enjoyed all the attention.
Our first year with two kiddos is in the books, and I am looking forward to the rest.