I have had a serious bout of startitis the last week! I keep finding all these cool, short projects that I want to do and I apparently think I should start them all at once. They would all be really quick to make, if I wasn't making them all at once! I have a bunch of WIPs to show you today.
This is one I've had on my mind for a while. It's so adorable and is so much fun to work on.
The pattern is Josefina and Jeffrey Elephant Rug by Ira Rott. It's intended to be made with three strands of worsted weight yarn held together to make a sturdy rug, but I saw a couple of other people had used crochet thread and made a doily instead. I thought that would be perfect for Lollypop's room.
I love, love, love crocheting doilies, but they are sometimes difficult to stop working on! I worked on this one every free moment for 4 days and I had to put it down for a little while. I woke up with migraines for 4 days in a row before I realized that crocheting was causing them. Working with the slick cotton thread and the tiny hook makes me tense up and really hurts my hands if I don't take it slow. I'm waiting on my wrist and shoulder to stop hurting before I pick this up again and finish the other ear. When I do pick it back up, I will only work a little bit at a time.
While I'm waiting to heal from the crochet, I started another block for the Knitterati Afghan. The last I showed you of these blocks was number 5. There have been three more blocks released and they are more my style.
I forgot about block 5 and started in on block 6. If it wasn't for running out of yarn, I'd be finished with block 6. I picked out yarn for blocks 5 and 7, and then decided these would be my colors for the entire afghan. I was going to try to use all stash yarn, but I think I would like it to be more uniform. Plus, these balls of yarn are only 50g and I'm not sure most the blocks will be able to be made with just one ball. In fact, block 6 up there will definitely not make it with just one ball, so I need more, anyway. While I am waiting on yarn to finish block 6, I think I'll go ahead and start block 5.
I showed my color choices to my husband and he said I needed another color. I had considered that, but I couldn't find a color that I really liked in my first dig through my stash. He suggested an orange. Hm. I thought about that and decided I agreed.  So dug again, consulted the color chart for Knit Picks Wool of the Andes and decided on one I think will work. I like that all the colors have a gray undertone. It's almost pastel, but not quite.

I also started a Sockhead Hat. This is one I heard about on the Very Pink Knits Podcast. They discuss it in episode 38: Moths! and I thought it sounded like a wonderful, simple pattern. I have plenty of sock yarns in my stash and I immediately knew which yarn I was going to use when I decided to make the hat. However, as I was digging, I found another one that I liked even better. This yarn is Three Irish Girls McClellan Fingering in colorway Zephyr (this colorway has been discontinued). The yarn base is 25% bamboo, which gives it a very nice sheen and silky feel, but bamboo is very bad for stretching and not springing back into shape and it's not very warm. The wool content (85% for this particular skein) will help it keep its shape, but I felt like the bamboo content would make this yarn a poor choice for socks. I think it will be perfect for a slouchy hat, though, and it will be really awesome for bad hair days that are just slightly cool.
In all the startitis, I did finish a thing. I've been working on these socks since June of last year. They've been my car project – the project I work on while I'm riding in the car – and I did take them with me when I traveled for work. I used 3mm needles (US2.5 or US3, depending on your reference) and discovered I don't like the fabric that needle makes for socks. It's just a little too loose for my liking, but I will wear the socks anyway, because they're very pretty.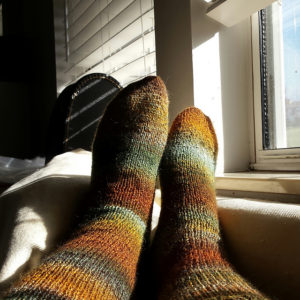 I love finishing a new pair of hand-knit socks. My sock drawer looks so colorful and is threatening to overflow soon. I still wear commercial socks – especially for hiking or walking – but for cozy, unique comfort, nothing beats a well made pair of hand knits.
So, I needed some new car socks to work on. I bought this yarn on impulse after seeing it as an advertisement on my Facebook feed. It just grabbed me and spoke to me. It said, "Please let me come live with you!" and I kindly obliged. 😀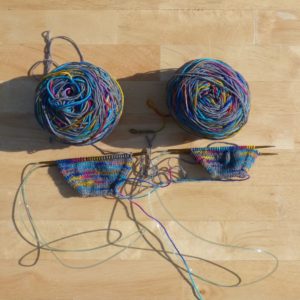 This is HauteKnit Yarns Jimmy Sock in Grey Bonfire. The colors will show much better when I get more of the socks knitted, but here's the photo from the Etsy Listing. You really gotta see the vibrant colors in this one.
One more (or maybe two) more things I want to start are crocheted doily coasters for my desk at work; I've been exploring Pinterest for ideas. I'm starting to think about Christmas, too, and plan projects for my giftees. I guess my startitis isn't quite in remission yet. I tend to just go with it, though, and I'll get into a finishing mode again before too long.
The sad part about my startitis is that I haven't touched my Anni sweater in a couple of weeks. I've been thinking about it being lonely in my knitting basket, so I'll pull it out again soon. It's getting warmer around these parts, so a long-sleeved wool sweater isn't going to be a best choice, but that will be the perfect time to finish the sweater so its ready to wear in the fall.
I'll be taking all my new projects slowly, trying to heal up my wrist from the crochet stress. I have to take frequent breaks right now and stretch my wrist and hand, but I feel like it's getting better. I'm so glad, too, because I really want to finish that elephant!
So here's to finishing and healing and many beautiful projects in the next few weeks! Talk to you next week, my friends!