I have listed three lip butters on my Etsy shop!
First, we have the unflavored lip butter. The base is Shea butter, Avocado oil and Beeswax. The unflavored lip butter has no additional flavorings.

Next is the Pumpkin Spice lip butter. The base is the same as the unflavored, but with added Pumpkin Spice flavoring. This flavor is warm and sweet. It reminds me of a pumpkin cheesecake.
The Pumpkin Spice is so good, even a velociraptor keeps it on hand! (Thanks to Jellybean for sharing his dinosaur toy. 🙂 )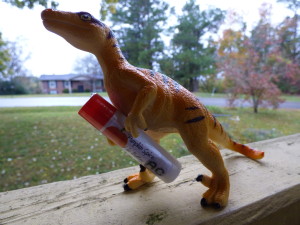 Finally, I have Mint lip butter. The mint flavor is bright and spicy, with hints of both spearmint and peppermint.
As I said last week, it's the beeswax that makes this product really special. The wax is harvested locally by my Father-in-law from his own hives. His bees are untreated and thriving and the wax is a lovely golden color and has a floral honey aroma all by itself. The wax is filtered but otherwise unaltered.
I must give credit, again, for the photos. The staging was my idea, but he took my idea and made it look great. He is definitely the photographer of us.
And speaking of my husband, I just have to tell you. (Warning: This is gonna get a little sappy.) He's been so incredibly supportive and encouraging. He's offered constructive suggestions on ways to improve the product or process. He's great to bounce ideas off of, he'll give me his honest opinion. He's taken the kiddo out on Saturday mornings to give me time to get some of these batches together. He's even helped me get shrink wrap on tubes. He's helpful, and kind, and even though we're all stressed with so many changes in our lives, he's still the calm in the storm. He's a great cook, an awesome father and the best husband. It's true we have a little bump to get over, what with the new house, new baby and selling this house, but I'm excited for the next chapter in our lives.