This stocking is one that I am very proud of and is very special to me.
I have known Ouida Mae's father for a very long time and he's actually how I met my husband. It's a long and interesting story that spans about 20 years, but I'll spare you the details. Ouida Mae's parents have been around for most of the major milestones in my life. We're close friends and I love them all very much.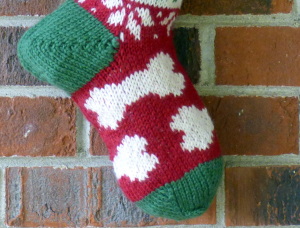 Ouida Mae's grandmother asked me to make a stocking for her in secret. We discussed ideas and what she really wanted was a dog, but one that resembled dogs Ouida Mae had. I found a border collie chart and worked that into my design.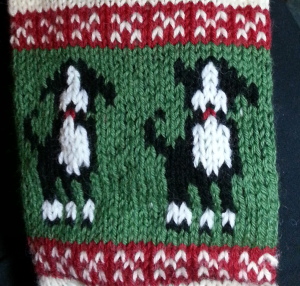 I changed the dog chart a bit – one of their dogs has a floppy ear and a stand-up ear. I love customizing designs to truly fit the recipient.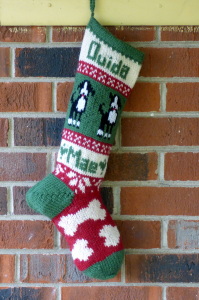 It's so much fun to personalize these stockings and even better when I know the person so well. I loved the surprise of it, too. It was easier to keep the surprise than I thought it would be. We see them on a fairly regular basis, but I didn't mention it once.
Seeing this picture pop up in my Facebook feed really made me smile. I hope this will be a family heirloom for years to come.