Bolstered by the success of the slippers I gave to my Mom & Dad for Christmas, I decided to give Jellybean's slippers another try. The knitting happens with a double strand of worsted-weight wool and size 13 needles, so it goes pretty quick. It's the felting that is so tedious.
You take your very large wool item (that you spent no small amount of time on, mind you) throw it in the washing machine with a pair of heavy jeans, hot water, and a little soap and let it agitate. If you've ever accidentally shrunken a wool sweater, you know what happens next. The fun part is that if you pay attention, you can carefully control the felting process and stop it when the item is the size you want.
Now, if you remember, I had a felting mishap on the last pair. (Anyone want them? They should fit a size 5 toddler foot, $15. Let me know.) But this time, I was very careful and it paid off.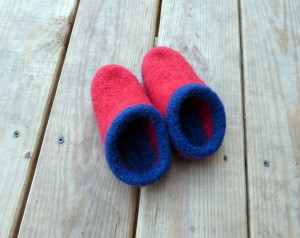 I made the next larger size for this pair and I think I felted them down as far as they would go. At the end of the process, I checked the washing machine every two minutes. They didn't shrink at all the last two times I checked. They are a little big, Jellybean wears a size 8 right now and these are about a size 9. But they work now, and they'll fit for a while, and he has discovered how much fun they are on the linoleum!
And now we all have a pair and I'm so proud. It's my job to keep my loved ones warm, you know.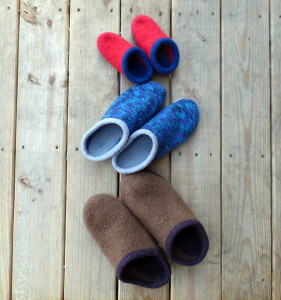 As I mentioned last week, I've been working on some sewing for things for the shop. One idea is a hanging circular knitting needle organizer. My first go at that one works, but it doesn't really fit what I was aiming for, so it's back on the drawing board.
The other idea is a storage roll for crochet hooks.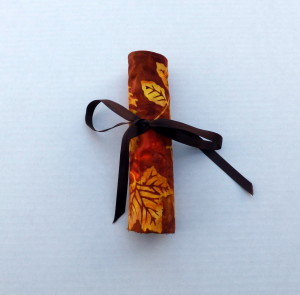 This is actually the second go 'round for this idea. The first one fit exactly what I was aiming for, until I accidentally flipped it upside down and out tumbled all my hooks. That's when I decided I needed a flap at the top to keep everything contained.
There are 10 pockets in the roll, enough to hold 10 different sizes of crochet hooks, and the pockets are all about an inch wide, so there's plenty of room for hooks of all types.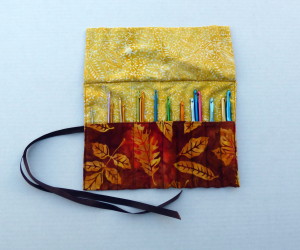 I love this. I made it because I desperately needed to organize my crocheting supplies (there are more hooks hanging about in this house, I just know it.) but I really love the simplicity of it. Are you an on-the-go hooker? Toss the roll into the bag and you've got whatever size you need. This would work well for sets of small-diameter double-pointed knitting needles, too. It's the only one of its kind right now, but there are plans for more to be made for the etsy shop.
This has been a productive week and I have even more good stuff to show you, but all in good time, my dears. Have a great week!