During my unintentional blogging hiatus, I was busy knitting things for Lollypop.
First up, I made a very sweet little hat, cardigan and soaker set. I am showing it here sans buttons because it took me forever to find buttons that would work and even longer to get them sewn on. The hat is Basic Baby Hat by Heather Tucker. The cardigan is the Puerperium Cardigan by Heather Brooker. And the wool soaker is the Wool Diaper Cover by Cynthia Combs in the newborn size (there's a crochet version of that one!) I love this little trio and I hope Lollypop isn't too big to fit into it!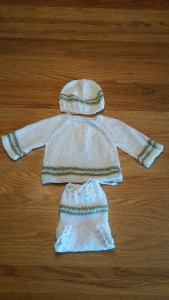 The hat and cardigan are made with Knit Picks CotLin yarn in white and celery. The cotton and linen blend will be enough to take the chill off, but won't overheat the baby. Even though Lollypop will be a spring baby, there's at least blackberry winter (and possibly dogwood winter) in which a sweater will be necessary.
The soaker is made from Knit Picks Wool of the Andes. That's a wonderful, economical choice for 100% wool and I use it in a lot of different types of projects.
Since we'll be doing cloth diapers, wool is a really great choice for a cover. It wicks moisture away from the skin and unless it gets soiled, it can be used for a long period without leaking. If it starts to feel damp, you just let it air dry and reuse it. When it's dirty, it does require hand washing and occasionally needs re-lanolizing, but that doesn't scare me. 🙂
I've been rather inspired and I made several covers in two sizes to get us going.
The are five sizes to the soaker pattern, and I really want to get a good stash of soakers going that will cover us until I feel like knitting again. (It took a few months to even have the desire to knit after Jellybean was born.) That means I need to make at least two more in the medium size before Lollypop's arrival.
There are also the booties I made when I first got pregnant. Did I not share those? Oh my.
I've got baby covered from head to toe!