The stockings I've been talking about for so long are finally finished! I was cutting it close with these. We're halfway to Christmas already. I'm just glad I have really awesome customers.
Last year, I made Ashley a set of stockings for her family. Remember these?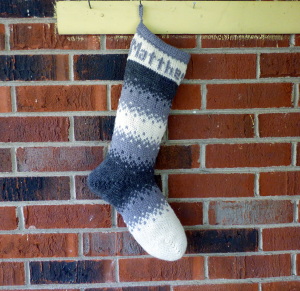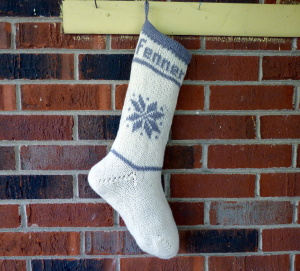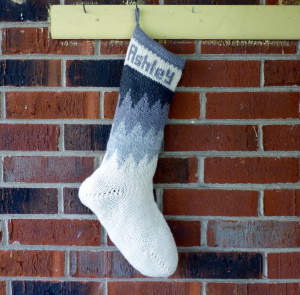 Well, they've added a new little one to their family and asked me to make a stocking for him, too.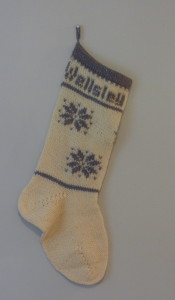 (There is no cool brick at this house. Boo.)
Well, Ashley was so impressed with the stockings I made last year, she gave her sister-in-law a gift of two stockings for Christmas. Then Amanda asked me to make two more for the rest of her family.
As you can see, Amanda's style is much different from Ashley's. And, in all honesty, mine, too. She sent me some ideas of ones she liked and we talked about colors and I got to work. This set of stockings was so far out of my comfort zone, but that is a really great thing!!
As it turns out, I really loved designing and knitting these stockings. I don't have one favorite, but different parts of them ended up being fun. The green plaid on Amanda's stocking was fun to knit and I really love the snowflake on Addie's stocking. I think these will look great on the mantle!
And now, I'm done. I tried to knit a little bit on Doug's sweater, but I'm just so tired. After having six men, and two trucks haul all our furniture and all the boxes that were packed, we still had to rent another 15ft truck to go back and get more stuff and there's still little odds and ends that are left in the garage (and a few plants. I keep forgetting those.) It's frustrating and expensive, but we all got sick in the midst of moving and we just couldn't get everything packed up.
I'm starting to feel more like myself, now. I also am suddenly feeling very pregnant. I'm halfway through and I can no longer suck in the bump. I have had only one pair of jeans that fit for over a year, now, but those are rapidly becoming uncomfortable. I appear to be in a different shape than I was with Jellybean because the only pair of maternity jeans I wore with him don't fit me well. I'm wondering about the other maternity pants, but they're still packed away. I do know where my boxes of clothes are, they just haven't been unpacked yet. I have one skirt that I brought in the suitcase – thankfully it's black so I can wear it with just about anything. I really don't want to have to buy more clothes that I'm only going to wear for 5 months, but I might have to bite on a new pair of maternity jeans.
We had the mid-pregnancy anatomy scan ultrasound and everything looks good. Lollypop has ten fingers and ten toes and everything is in the right place. We did not find out the gender. I think my family has started a betting pool, though.
I know I have at least one trip back to the old house to look forward to this week, but other than that, I'm taking it easy. My next project is to focus on Christmas shopping, since I didn't get the chance to knit any gifts this year!
Have a great week, friends!