I totally missed a post yesterday!
I've had a bad case of disorganization this week. I do most of my knitting while Jellybean is asleep. My little knitting nest is downstairs on the opposite side of the house, so I don't make a lot of noise to wake him up. I also knit in the evenings while Hubby and I watch TV. Neither of us likes me to be up and moving around while we're trying to watch something, so I can't dig around in my yarn bins in the evening. During the MDO time, I'm usually busy doing housework or other stuff that I can't do when Jellybean is home.
So I've managed to find myself with a project to start, but all the yarn for it put away twice this week. I've sat and watched tv – without knitting – twice. That's unheard of.
I also haven't had much progress on my spinning. I'm finding it not as much fun as I thought I would when I started the challenge. It's fine to spin, but I enjoy knitting so much more, and with my limited time available, I choose to knit more often.
That being said, I have made a little bit of progress on my spinning. This was week two of the challenge. I spun half of the fiber and then wound it off onto the toilet paper roll to wait for plying.
Week 3, I spun about 20 grams, which is less than an ounce. Still, it's more than nothing, so I'm still eligible for prizes in the challenge. 🙂
I've made progress on the lion costume, too. The body is done and the hood is going well, so far.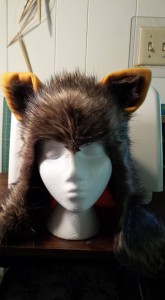 I was so dreading sewing with that furry fabric. I expected it to be thick and messy and hard to deal with. I did take the cut pieces outside to shake out all the fur, but sewing with it has been a breeze. I'm excited for Jellybean to be a lion at Halloween.
The knitting I have been able to do has been stockings. My sweet friend Ashley recently had another baby boy so I am making his stocking to coordinate with the other three I made.
The new baby's stocking will have two snowflakes on it to be similar to Fenner's but just slightly different.
I started the new stocking on Saturday, but I'm fairly certain I picked the wrong white. I started the stocking with white, but my notes say I actually used a cream color instead. I will finish the white stocking anyway and put it in the Etsy shop when it's done.
And that's pretty much it for this week. It doesn't seem like much, but I sure am tired!
Have a great week!