I like making things. I like making things for people I love. I like keeping the toes of the people I love warm. Some of those warm toes help keep my toes warm.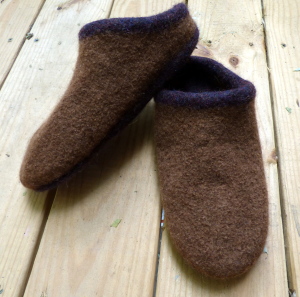 I have notoriously cold toes pretty much all year round. The best Christmas present I've ever gotten is a heated mattress pad that gets used from September to July each year. (No kidding. I took it off the bed around the end of July and I'm just about ready to put it back on.) My husband doesn't have this problem and he's often my personal space heater. I have a feeling my kiddo is going to be much the same.
I made myself a pair of felted slippers early this summer so I would have them ready when it got cold again. I used some Lion Brand wool I had laying around, I don't even know what type except that it was wool, it would felt, and I had enough of it. They were so easy to do, I asked my DH if he would like a pair, too. When he's working from home, his desk sits in front of a window and right over a HVAC vent. It gets a little chilly there. With both of us having warm houseshoes, maybe we'll save a tiny bit extra on the heating bill this year.
He picked out the colors – a deep, rich purple and a nice chestnut brown. The pattern is made with the yarn held double, plus a double layer sole, so when they have been felted, they are super thick and cozy.
There's a children's version of this same pattern. I do believe the Jellybean needs a coordinating pair of slippers.