It's Labor Day!  After laboring on the sweater, I have to tell you that I'm a little bit burned out on knitting. I've been working on some small things, but I haven't quite gotten the drive and determination to work on anything big yet. So, in honor of both labor and laziness, I am cheating on my blog post this week and recycling an oldie.
This pattern has been available for a few years, but I've never highlighted it on this blog.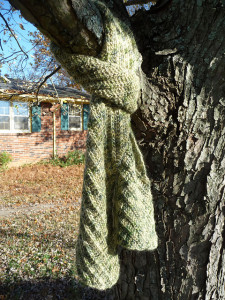 Inspired by the Yarn Harlot's One Row Handspun Scarf but worked on the bias. The pattern includes both written and charted instructions.
This pattern is quick and easy, making it a great last-minute gift idea. The pattern is available for free on Ravelry – Secret Scarf.