Boy, this last week has been a big one. I've spent most of the week with stuff related to Jellybean.
On Monday, his new big-boy bed was delivered. No more sleeping in the crib, this kid has a huge double bed, now. It's made a difference – he's been sleeping so much better than he was on the old, cheap mattress we had in the crib. ($30 mattress that lasted a year and a half before it got too uncomfortable.. that's not too bad!) He's got one set of dinosaur sheets and one set of construction vehicle sheets and he's pretty happy!
Tuesday was a REALLY big day. First on the list was his very first haircut. He had been complaining about his hair being in his eyes and getting in his mouth when he was eating, so I made an appointment to get it cut. He did so great, didn't cry or refuse the cut. I had to hold him a little bit, but mostly I just held his hand while I cried. There went the last little bit of baby. He's a little boy, now.
After the haircut, we toured two places for Mother's Day Out. We're lucky that one of them has a spot available, and he starts tomorrow. This is a big step for us, and one that I think I probably should have taken sooner. He's so active and so interested in what I'm doing that it makes it difficult to get any real work done around the house. So, for a few hours a day, twice a week, he'll be hanging out with kids his age and Mama gets some time. I've got so many plans for that time, I know it won't all get done, but I hope I can be productive with it.
The rest of the week, I have spent preparing myself for the Mother's Day Out. Making sure I have a blanket, enough diapers, and change of clothes packed up. Getting a small backpack for him to carry his stuff. And trying to figure out what in the world I can send for his lunch (nothing messy; nothing that needs to be heated up; just simple, easy-to-eat foods that he can manage pretty much on his own.) I think It'll probably end up being a granola bar, banana, cheese stick with maybe some carrot/pepper/celery sticks and nuts. I hope that out of all of that, he'll eat SOMETHING.
Since the decision to try to find a place was so quick, and at an odd time of the year, stores don't have their school supplies out right now and I didn't have time to sew anything. Thank goodness the program has extra nap mats – those are NOWHERE to be found right now. I went thrift store shopping for the backpack and I found one – it was the right size, solid black, no cutesy characters or anything…. but it had "Collin" embroidered on it. I looked at it for a long time. Except for having someone else's name on it, it was perfect. I bought it anyway.
I took my handy seam ripper to that embroidery, and pulled it all out. Then I found some iron-on applique patches of a dump truck and a loader. Simple and quick and it's almost brand new!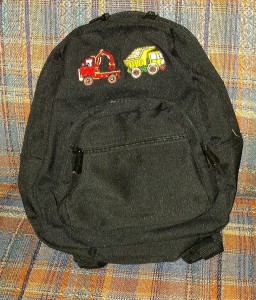 All that's left to do now is to fill it full of his stuff.
I'm a little worried that he'll have a rough time, but I know he'll be ok. He's a friendly and outgoing kid and is always interested in new experiences. He's started having fun playing with other kids at play dates and at playgrounds instead of just doing his own thing alongside them. As with just about every new experience, I'll probably have a harder time than he will (see above about the haircut.) 🙂
I've been knitting in the little spare time I've had. I'm working on some commissioned projects that I can't show you until after Christmas. Tomorrow's supposed to be rainy and yucky here so I'm hoping to get a good amount of work done on them.
Enjoy your week as if you were a toddler with a sandbox!