I am working on a post about a shawl, and in it I'm trying to tell my Grandmother's story. It's difficult and emotional to write (she passed away this past June) and it's taking me a long time to finish it.
My Grandmother's story centers on her family and besides her daughters, grandchildren and great-grandchildren, her sister Kat is a very large part of the story. Mamaw and Kat have always been very close and when Mamaw needed to move out of the house she lived in for 50 years, Kat insisted she move in with her. Mamaw always said it was temporary, but we were all glad she wasn't living alone.
Kat took care of Mamaw, right up to the very end. I know I am not the only person who feels enormous gratitude for everything Kat has done for my Mamaw and continues to do for my family.
So, when Mom asked me to make Kat a pair of felted slippers, the answer was yes, without hesitation.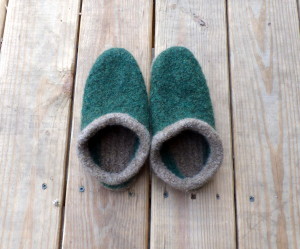 This is the seventh pair of these slippers I have made. They are fairly quick, and very fun to make. They do take a fair amount of yarn, and the felting can be nerve-wracking (if you go too far, you have to start all over!) but it's so satisfying to have them come out just right.
Kat loves them. Mom said she put them on right away and I think they're probably getting a lot of use right about now.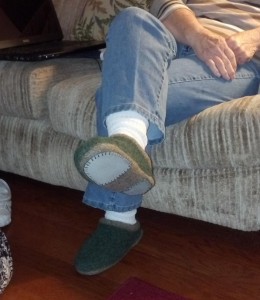 I am so very glad.