That's what one of my mom friends is fond of saying and boy, it's so true.
Today my little Jellybean turns two.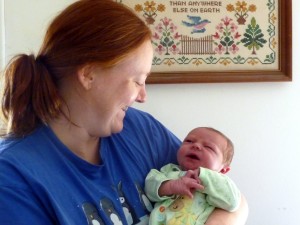 Motherhood is no joke. Jellybean can make me furious one minute and doubled over in laughter the next. I've watched this little man grow over the last two years and I'm blown away. We've come so far and we've all survived.
And there is so much more yet to come.
We had a small party on Saturday with pizza, cupcakes and dinosaur party hats! He got to see Mimi and Papaw, Grandma and Grandpa, and Joey and Julie, and lots of other friends. Mimi and Papaw even stayed overnight and came over to play.
Today has been a nice, quiet day. I offered to take him to the bounce house (which he LOVES!) or to the science museum, but he wanted to stay home and read his new Curious George book (Thanks Mimi!) and play with blocks. We did take a walk down to the lake, but it was too cold and windy to stay out long. Then in for lunch and down for a good, long nap.
He definitely takes after his Mama and Dada in that regard. A lazy birthday sounds just right to me.
Happy Birthday, Jellybean.
Love, Mama