Monthly Archives:
June 2017
I've recently learned that I can knit and read a book at the same time. When hearing this information about me, many people are confused as to how that's possible. Well, it is possible, as long as what I'm working on is simple. If you're working some plain stockinette, garter or even a simple ribbing, (such as a simple pair of socks, a hat, or the long slog of a sweater body) it's not difficult to read, watch tv, or have a conversation while knitting. There's confirmed research that says as long as what you're knitting on doesn't take much concentration, it can help you focus on the other thing that you're doing – such as reading or even listening to a lecture or a meeting. (There's a fascinating interview with Art Markman in this episode of the Very Pink Knits podcast.)
Anyway, I've been checking out library books and reading and knitting a bunch of stuff.
I'm down to the smocking section on the Anni sweater. I don't think I'll be able to read while knitting this section, but reading definitely got me through the last couple of inches of the top part, and it'll be great for the sleeves, too. I have several more inches to go, but it's so gratifying to see this progress.
I've finished my sockhead hat. The top part of it is 9 inches of plain stockinette. A perfect reading project.
I finished two blocks for the Knitterati afghan, blocks 10 and 11.
And here's a look at all my blocks together so far.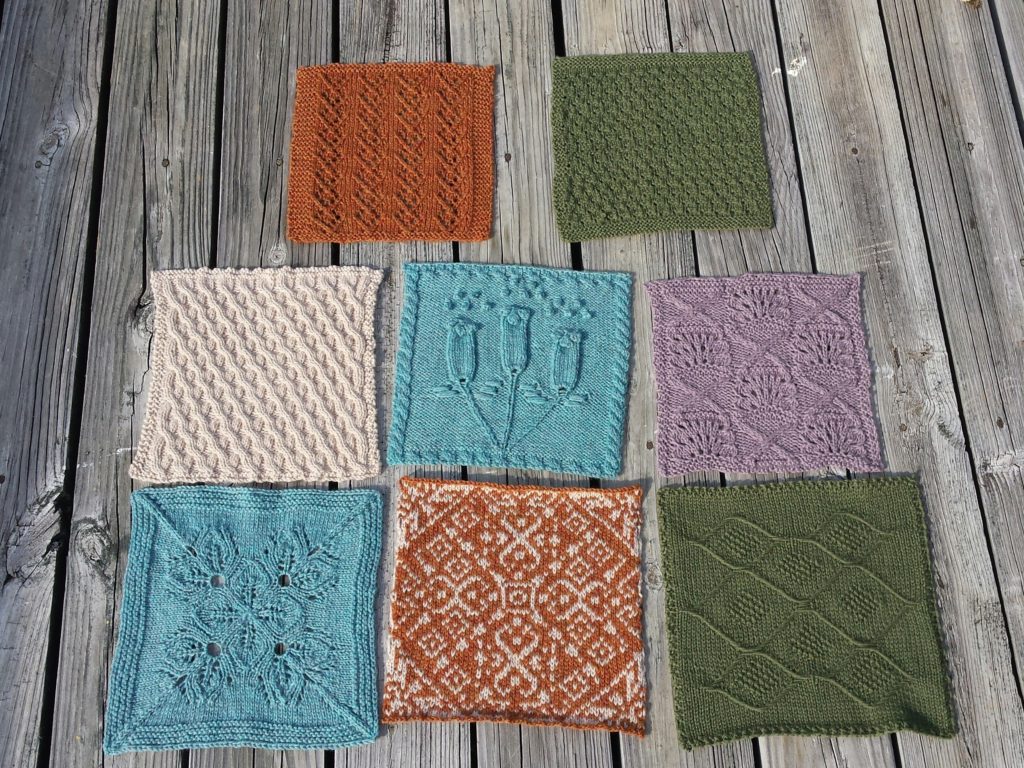 Block 10 was fun and a new experience. I've done color work before, but it's always been in the round. I've never done colorwork flat and I had a really hard time wrapping my head around trying to purl in color work and catch the floats every other stitch. I ended up teaching myself to knit backwards (also known as mirror knitting) so that I didn't have to purl anything. Yes, I do realize that I taught myself a new skill while trying to avoid learning a new skill, but I am happy with the result!
Block 11 was very quick. I think it took me a little more than a day to complete. That's a good thing, because I think I'm going to have to reknit it. I used needles that were bigger than what the pattern called for, in order to keep a consistent gauge, but the block is bigger than all the others. The block right above it is smaller than the others, so both may have to be redone.
Blocks 12 and 13 have been released and I really like them. Block 12 uses a technique called entrelac. The block on the pattern photo is all nice and neat and square, but I'm wondering if that's going to be the case for mine…
Block 13 is another colorwork block. I'm trying to decide which colors to use in mine.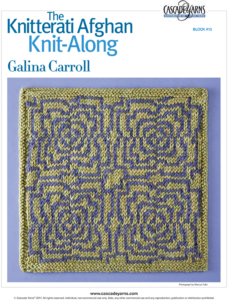 Since I've taken so long to publish this post, Block 14 is out as well.
I also settled on a pattern for the bonfire socks. I wanted something with a little bit of texture, but not something that would interfere with the lovely colorway. I am doing a simple twisted stitch every three stitches. The second sock will have twists that lean to the left. (See, I'm knitting while reading!)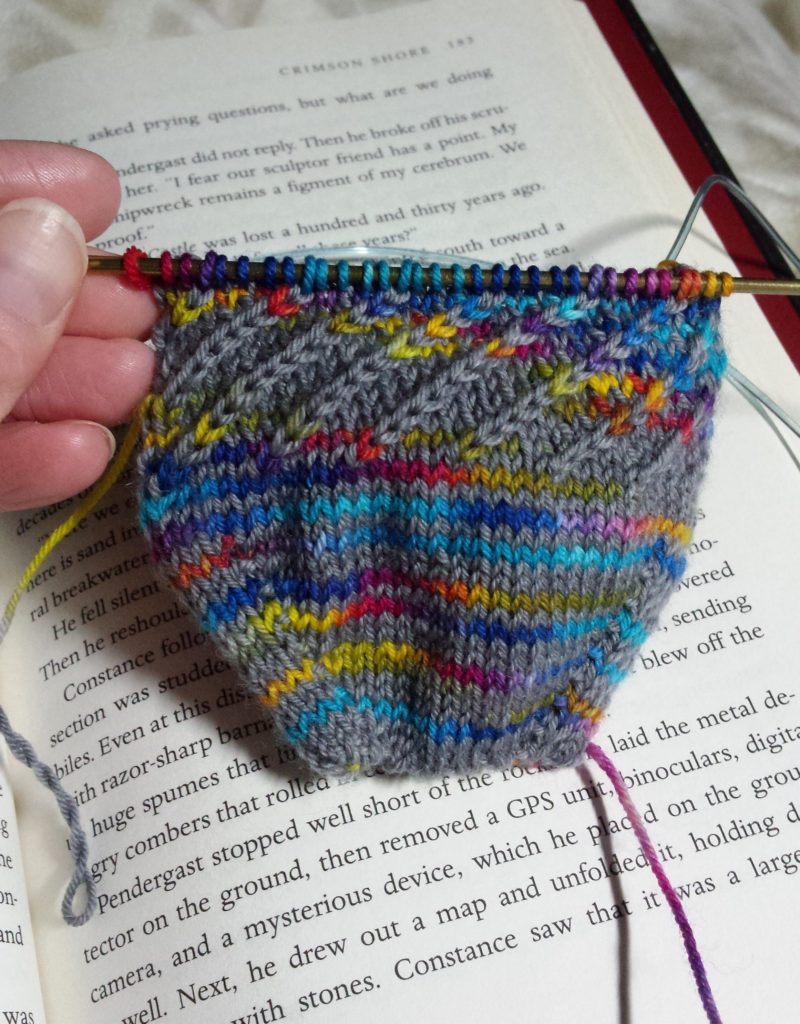 I've also been working on a CrochetAlong of a doily pattern from Grace Fearon. This doily is named Evelyn and it's fun! There are lots of new-to-me techniques in this one, and at first they seem a little daunting. (Such as FP-4TC tog and FP-DTR.) But, like with most things, once you learn how it's done, it really isn't that difficult, just different. I love all the texture in this one! My finished doily is 16 inches from point to point.
Of course there are lots of other things on the needles, as well. There's a little baby blanket in the works. Jellybean's morning teacher at daycare is due with a babe in September. His afternoon teacher just had a baby, too. I'm excited for them both. There's a sweater for a family friend. I'll share that with you when I get to a point where it looks like something. I went ahead and started another doily. This one is Francisco, another of Grace Fearon's patterns.
Finally, I don't know if you remember the Evenstar shawl that I started WAY back in August. I've been working on that a little bit lately. I've made good progress, but it's run into a… well, we'll just call it a snag and that shawl is sitting in time out. That story is for another blog post, though!
Have a great week and keep knitting on!