Hello, friends.
Today's post will mainly be of interest to those of us who use Ravelry on a regular basis. If you're not familiar with it, Ravelry is a website and database for knitters, crocheters, spinners, and weavers. You can keep track of your in-process and finished projects; yarn, fiber and needle/hook stash; and library of knitting books and patterns. You can also queue patterns to work on next (and after that and after that…); add patterns, projects, yarns, designers, etc. to your favorites; add fiber friends and see what they're working on; and chat with other fiber crafters all over the world.
I love a good RSS feed and Ravelry has had the RSS feed icon on a few pages for a while. I recently discovered it on my friends page.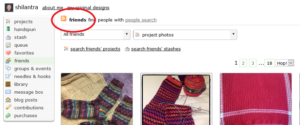 When you click on the orange icon, you get a menu of options.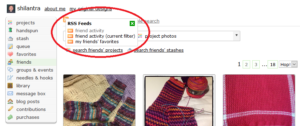 I chose to subscribe to all my friends activities. (The steps for subscribing to the feed will depend on what you use to read RSS feeds. I just copied the link to my friend activity and subscribed within my reader.) This means whenever someone in my Ravelry friends list does an activity, such as comment on or favorite a pattern or project, add a pattern to their queue, add pictures to a project or magic link something in a forum post, I get a notification in my RSS feed.
Let's say you only wanted to get notifications when someone adds pictures to a project or adds a pattern to their queue. You would make the selections in the Activity Types dropdown. Then to get the RSS feed for that option, you would click the orange RSS button and choose friend activity (current filter).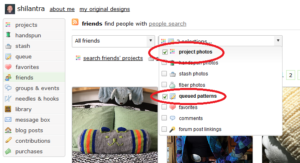 I love to keep up with what my friends are doing on Ravelry. It's such an inspiration to see someone else's color choices, pattern preferences, and project modifications. I always find lots of new ideas when I'm looking through my friends' activity, but I often forget to go browse this section when I have a few moments of free time. By having it automatically download in my RSS Reader, I never miss out on what my Ravelry friends are doing. I have also been commenting on my friends' projects more often, too. When I see something that is really grand, I make sure to let them know!
By the way, if you're on Ravelry and we're not friends yet, go ahead and add me!