So, around this time last year, there was a little baby born.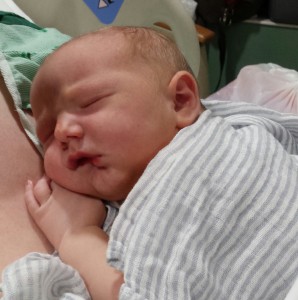 He had a rough start, with feeding and allergy issues, but we've found workarounds for those issues and he's thriving.
His birthday, this past Sunday, came and went without too much fanfare. We had plans to visit family and we took some brownies to celebrate with, but the real party is next week.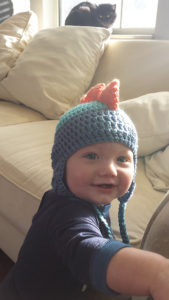 I've so enjoyed watching him grow up this last year, but it does come with a touch of sadness. He's our last baby, so his life will be the last of the firsts. This is the last first birthday. He's had the last first tooth, the last first step, and so on. There aren't as many photos of his every milestone, like there was with Jellybean, but so it goes with second babies.
He's at a stage right now where he's into everything, learning and exploring, and while it is absolutely exhausting, it is so much fun to watch. He can say "Uh Oh", "Ow", and just recently learned "No."
He has a word for "this" and "Daisy" and he makes his barking sound when we get home and get out of the car, as he's looking around for Daisy. When he gets done eating, he calls for her to come clean up the food on the floor, too!
He adores his big brother and they play together more and more frequently these days.
He loves his mama, almost to the point of being clingy, but can't quite resist a little adventure. He's timid around strangers, much more so than his brother was at this age. I'm ok with that.
He's a happy child, but not without his little moments, of course. He's fun, funny, smart and mischievous. He's my baby boy.
Happy birthday, Lollypop.