Last time, we talked about coming up a few yards short of a whole block.
Well, I did go get myself a set of size 6 dpns and I ripped out the old block and made the new block. I had plenty of yarn to spare and I got a nice looking block out of it.
I am very, very pleased with the way this block turned out. I was looking so forward to block number two coming out and I couldn't wait to cast on!
I was responding to comments on Thursday's post when I got the email notification that block two had been released. I was so excited! I went to my email and opened this: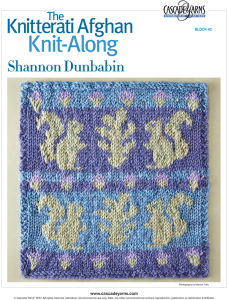 Oh.
It's squirrels.
And acorns.
And Fair Isle color work.
Just…. *sigh* no.
I think the block is fine, especially if you're someone who really likes squirrels. I just don't think I want this one in my afghan. The color work poses a problem because you have to carry the yarn you're not knitting with behind the fabric and catch it every few stitches. It's possible to do a color work block or even a whole afghan in color work, but the floating unworked yarn in back is still prone to getting caught and it's obvious which side is the wrong side (at least with the other block, you can display either side.)
That, and, I'm just not a big fan of squirrels.
I'm really hoping that Cascade didn't lead off with their best block. I'm cautiously optimistic that the next block will be more of something I would like to do.
If not, I may end up making a whole bunch of block ones and just make an afghan from that. I'll keep going with the knitalong and just knit a block whenever they release a new one!
In other news, I've finished a large, mostly surprise project for a friend who's baby will be here any day now. I will show you photos of that soon.
Finishing that project has freed me up to finally get going on my Anni sweater. I've done a mere 25 rows, but if I can devote some time to it, I will see progress very quickly. Maybe I'll get to wear it before the heat of the summer comes on!
Have a great week, friends!