38 weeks, now and we're still just waiting on Lollypop to choose a birthday.
I've not been doing much. For some reason, I don't want to knit right now. I've been working on a cross stitch project, just as I feel like it.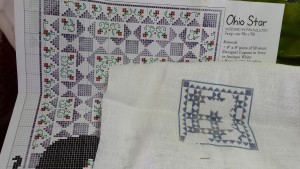 I'm just trying to rest, as much as is possible with a wild 3 year old, and keep up with the housework.
Jellybean is really enjoying his PDO class and made an instant friend on day one. The teachers are wonderful: very kind and patient, and of course he's showing them his very best side in these early days. I'm glad we were able to find this class for him – I think having the routine will help us all after Lollypop gets here.
Yesterday, my new friends held a Blessingway ceremony for me. It was wonderful and I left there feeling very loved and supported. I even had an old friend drive 2 1/2 hours to participate. Talk about feeling loved!
I wrote out my fears and we talked about those. I got so much support and advice and reassurance. Then I tossed the papers that gave my fears a voice into a fire. It felt like a weight lifting off me as I watched them burn.
Then my friends and mother-in-law read blessings for me that they wrote while I was writing my fears. Their words were beautiful as they washed over me. One blessing in particular stood out to me. "May you have the courage and voice and wisdom to ask for exactly what you need." Isn't that one we all need to hear and take to heart?
I was also given tokens with words of encouragement, to use during labor, or any time really. Single words of inspiration and motivation for when I might think I can't go any further.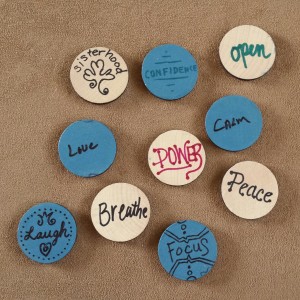 My new friends have known me less than a month, but have welcomed me with open arms and lots of love. I'm so thankful to have these ladies along for the journey as our family grows.
We have everything we need. All my critical tasks are done, now I am just trying to relax and enjoy these last few days (or weeks, maybe) of being a family of three.