As I mentioned on the AbbyCrafty Facebook Page, I went to my first craft show yesterday. It was a very small and private affair, but it was lots of fun and I even sold some stuff! I set up what I thought was a cute little holiday themed table.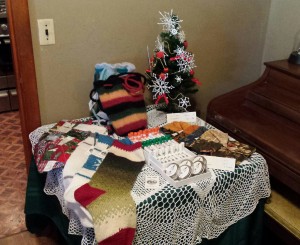 The lip butters were my best sellers. I will definitely be expanding my flavor line as soon as we get moved.
I have snowflake ornaments back there on the tree. I made those early this year, but I've never listed them on Etsy. I haven't had a good place to photograph them. If you're interested in those, let me know and I'll get some photos.
I've been working on more stockings. I have a set of four commissions I'm working on right now. I got them all started, and now I'm working them all down to the heel first. I have three of them going right now and almost ready to get moving on the fourth. These were so much fun to design and they're lots of fun to make, too. Here's a sneak peek: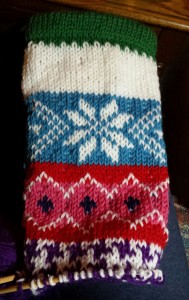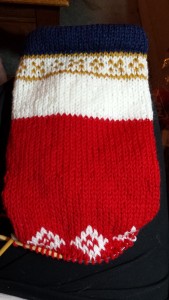 The color is really saturated in these photos, because I'm snapping them with my cell phone, inside, at night. They're actually brighter than the photos show. The sparklies don't show up well, either. The snowflakes and reindeer in the first and last photos have opalescent sparklies and the gold band at the top of the middle one has gold sparklies.  That green plaid is turning out to be LOTS of fun to knit up.
We just keep moving on with packing things up. The sellers haven't finished moving out yet, so we're going to stick to our plan to move at the end of the month. We'll probably have to go back once or twice before moving to get keys and set up the rest of the utilities.
Lollypop and I are doing well. We're 17 weeks and I'm feeling lots of flutters and rolls in there. We're just cruising along right now and getting things done.
We have lots of errands to run today so we'd better get moving! Have a great week!