I've been doing way too much adulting this week.
Most of my free time this week has been taken up with contacting handymen, realtors and bankers. You see, we're planning a move that has been a desire for several years, but several life events have happened that makes now the right time to go.
So, I've had to be an adult and take care of some very important things this week. I don't like that very much. I'd much rather use my free time to knit and sew, but we all gotta do what we gotta do. 🙂
Anyway, this whole thing will be good for us, once we're through it, but it is definitely stressful right now.
I have used some of my toddler sleeping time to knit, mostly in the evenings. I'm finishing up my third stocking of the season – the one for my friend Ashley that I'm not sure about the color. I'm going to get them all washed and blocked and then I can finalize the details.
I've not made any more progress on the lion costume, although Jellybean asks about it. I might take one MDO day this week and work on that.
I am still working on the spinning challenge occasionally. I think I don't really enjoy spinning as much as I want to and I'm considering destashing my fiber and spindles. I just really want to be using my free time to knit, not spin, so the tools for spinning are just taking up space. I'll try to finish up the 4oz I've got going now, but I think that'll be it for me.
Only one photo for you today. And it's not fiber related at all. We had to have some septic work done on Monday. (YAY, she said sarcastically) Jellybean loves big machines and he was glued to the window watching the backhoe dig up our back yard. Not so fun for our bank account, but great entertainment for a toddler!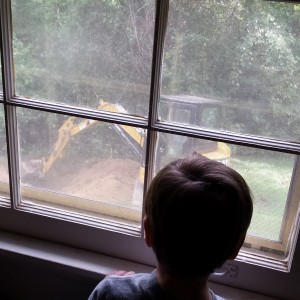 As we progress more toward the packing and moving part, things may get slow around here. I hope you'll forgive a few missed posts. Hopefully we'll have this all done before the end of the year and I'll be back in the swing of things!
Have a great week!