After much anticipation, I can finally reveal my epic sweater.
This is my healing sweater. I have failed no less than three times to make a sweater for myself. Reasons for failure include lack of skill, lack of confidence and complete stupidity. But this one is a complete success!
My skills and confidence have improved so much in just the last couple of years. Making sweaters for my tiny human has helped my sweater confidence a lot, but I've learned a lot about reading patterns and techniques that make garment knitting easier. (I've also learned a lot about staying committed to the finished product.) I was able to modify this pattern just a little bit to make it fit me the way I wanted it.
This will be my winter sweater. I plan to wear it over layers, so for that reason I wanted a looser, not fitted garment. I also have long arms and broad shoulders. This means that commercial sweater sleeves tend to end up being about 3/4 length on me. It's annoying and my wrists are always cold. I'm not so into the trend of shorter length sweaters, either. I was able to make the sleeves and body long enough to my satisfaction.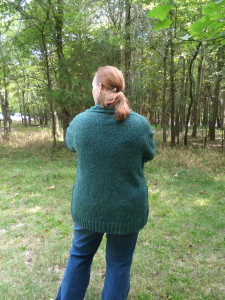 I might have made the sleeves just a smidge too long, but the wonderful thing about knitting it myself is… I can redo it if I want to. I would just undo the bind-off, rip out the cuff and a few rows, then re-knit the cuff.
The construction of the sweater was interesting and fun. The designer wrote the pattern so that you knit half of the back part of the collar then you stop there, pick up stitches along the cast-on edge and knit the other half. When you get to the same point as the first half, you pick up stitches along the edge and continue on down the body. If you're not a knitter, that is probably completely confusing, but it works and it's fun to do.
I modified the pattern at the hem to avoid having a split between the cable and the ribbing. That took some fancy needlework, but it was worth it. The only other modification I would make is to do a provisional cast on when beginning the collar. That way you would have live stitches to use when you started the second half and it would be seamless. As it is, the seam is pretty much invisible from the outside.
I love this sweater so much. It's warm and soft. The cables are beautiful. The construction was simple, but interesting enough to keep me interested. I will wear this for years to come. I am so happy I made this!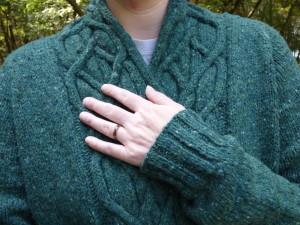 Merle sweater designed by Norah Gaughan. Made in Jo Sharp Silkroad Aran Tweed. (Just for an interesting tidbit, Norah Gaughan is the same person who designed the pattern for the Aran Afghan I finished last month. I think you could say I'm a fan.)
P.S. Thank you so much to my awesome hubby for taking these photos for me. I am almost never satisfied with the photos I take, but I am almost always satisfied with his. <3