Things have been quiet around AbbyCrafty the last few weeks. Even still, it's not been too quiet for us. We've had some medical issues (we're all fine) and some traveling. In the week before Mother's Day, Jellybean got to see ALL of his immediate family, including Gigi, his great-grandmother.
I have some commissions I've been working on. One set just needs to be washed and blocked. I have a lot of woolens that need to be washed, though, and I just haven't gotten them into the sink! I also have a sweater repair to do for my dental hygienist. This sweater belongs to her mother, who lives in a nursing home. It's her favorite sweater and she's worn it so much that the elbows are worn through.
I've been working on some personal projects and working on some patterns, too. The patterns are fun to do. I just need to get photos of the finished products that I like and I can publish them.
To break up the knitting rut, I pulled out this project.
It's a cross stitch that I started probably more than 20 years ago. The date on the magazine is 1990. I found some places where stitches were not in the right spot and I think that is what made me put it up so many years ago. Apparently I couldn't count. I've spent some time taking out the wrong stitches so I can finish it.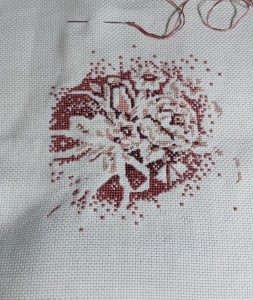 This is worked on 22-count Hardanger fabric. It's tiny. The entire design will be about 4 5/8″ square.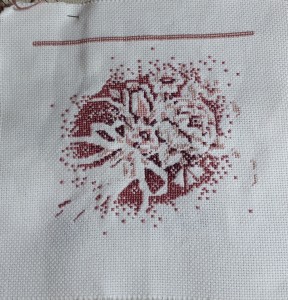 This design is 100 stitches square. There are lots of designs that are bigger than that, but when you are faced with a row of 100 background stitches in a row, it can be rather daunting. It's the same feeling of being faced with miles and miles of stockinette. Still, I pressed on.
And on. I like it. In fact, I like it so much it's hard to put it down. There's still a lot more work to do on it, but now that It's going, I just want to work on it constantly. The progression you see here is about a week's worth of work.
 I think this will be really pretty when it's done and framed.